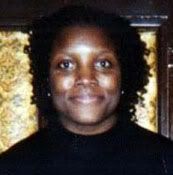 Loving, beautiful, happy, proud, strong, intelligent and classy. Just a handful of words that describe a 36-year-old woman whose life was taken on September 11, 2001.
Daphne Ferlinda Elder was all of the above and more. She was also a daughter, a mother, a friend and a coworker. She was very close to her family, having lunch with her siblings on Saturdays and calling her father every day just to make sure he was taking care of himself. Daphne also took great care of her son, Justin and was so very proud of him and her family. She did not hesitate to speak her mind when it was important and stood up for her family and her friends without wavering.
Daphne worked for Marsh & McLennan on the 97th floor of the World Trade Center, where she was known as a kind and helpful co-worker. So many of her friends and coworkers have left messages speaking of the fun and laughs they had with her and how she found so much joy and humor in life. Here are some of those comments:
"…Just before this tragedy happened, Daphne saw my name and e-mailed me just because and what was so funny about this, I decided that I wasn't going to delete her message. I felt then that she was so sweet to scream at me and ask where I had been and to wish me well, that I felt at that time I will treasure this e-mail, now that she is gone, this three line e-mail means even more. I love you Daphne, I still have a tear for you Daphne, God bless you Daphne."
June Sanders
"…Another colleague asked me yesterday if I had ever known Daphne Elder, and I said, "Of course! She was tall and beautiful, and was always dressed immaculately." Then I was told that she was working for Marsh on Sept. 11, and I was beside myself. She was always so patient whenever I came to repair her PC, and she always had a smile for me when passing me in the hallway. I offer my deepest sympathy goes to her family, her loved ones, and anyone who was lucky enough to have been enriched by virtue of having known her."
Dominique Dowsing
"My sincere condolences go out to the Elder family. I met Daphne at The Robert Treat Academy where both of our children attend. She was a very strong young lady and one who always spoke her mind, I miss seeing her at the Parent meetings and discussing issues with her. I think about her often and it's hard to believe that this type of tragedy could happen so close to home. The Elder family knows that my prayers are with them constantly."
God Bless
Tahira,
Robert Treat Academy, Newark, NJ
"…She was a wonderful, sincere person who was always up beat and positive. She always seemed to have rays of sunshine following her, even on bad days. She was always with Cynthia and they made me a "soul sister" I will never forget and keep her in my daily prayers. My deepest sympathy to her family. God bless her soul."
Lisa Napolitano
So many of these comments included the laughing and joking that would go on in the office lunchroom whenever Daphne was there. She touched so many lives and will be remembered by so many more if only for her smiling face in the pictures left in tribute to her. But the most moving tribute for me, comes from her father…
"Daphne was a loving person," Mr. Elder said. "She called me every day to find out how I'm doing, what did I eat, did I get some rest. That's what I really miss."
(NYT 10/22/01)
Project 2,996 is about remembering those who died in a terrorist attack on our country on September 11, 2001.