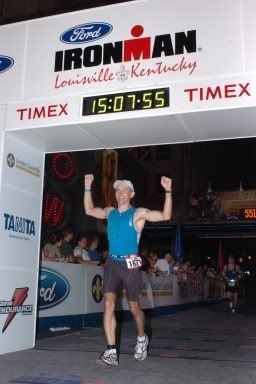 I finished my first Ironman race in Louisville last Sunday with a time of 14:35:11. The race and the opportunity to hang out with 2,000 other Ironman veterans and first-timers was an incredible experience. It was a tough, non-wetsuit swim, a challenging bike course and a hot, 90+ degree run. I loved every second of it.
Thanks to you all, I raised over $6,500 for the Fisher House Foundation. I was not one of the top three fundraisers at the race, but Janus will still be donating additional $'s to Fisher House.
Thank you all again for the support over the past few months. I could not have done this without your help!
I've attached a picture of me crossing the finish line. For you Ironman veterans wondering why the clock time is different than my finish time, this race had a time trial start for the swim instead of a mass start.
Thank you again for all of your support!
Bill
A giant THANK YOU and congratulations to Bill Rollins for his hard work and support for Fisher House Foundation!!