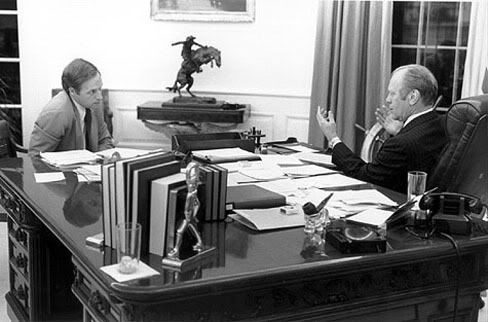 If you did not have the opportunity to see the State Funeral service last night for former President Ford, you missed a most touching tribute by our current Vice President and Ford's former Chief of Staff, Dick Cheney. You can read the full speech at the White House.gov site, but here is just a bit of it.
It's hard to imagine that this most loyal of men began life as an abandoned child, facing the world alone with his mother. He was devoted to her always, and also to the fine man who came into their lives and gave the little boy a name he would carry into history. Gerald and Dorothy Ford expected good things of their son. As it turned out, there would be great things, too — in a journey of 93 years that would fill them with loving pride.

Jerry Ford was always a striver — never working an angle, just working. He was a believer in the saying that in life you make your own luck. That's how the Boy Scout became an Eagle Scout; and the football center, a college all-star; and the sailor in war, a lieutenant commander. That's how the student who waited tables and washed dishes earned a law degree, and how the young lawyer became a member of the United States Congress, class of 1948. The achievements added up all his life, yet he was known to boast only about one. I heard it once or twice myself — he said he was never luckier than when he stepped out of Grace Episcopal Church in Grand Rapids with a beautiful girl named Betty as his bride.
Photo: President Ford with his Deputy Chief of Staff, Richard Cheney 1975
- Gerald Ford Foundation