Army Wife/Toddler Mom is looking for a few good….recipes! It's kind of a blogger's cookie recipe exchange and I thought it sounded like fun, so here are some of my favorite recipes, though I must admit it's been a long while since I've made any cookies! The girls' Christmas break is coming up…sounds like it might be in the cards this year! So here are some of the recipes that have been family favorites for years and years.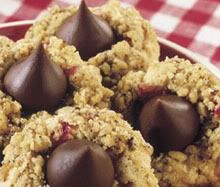 "Kissmas" Cookies
1/2 cup shortening
1/2 cup brown sugar
1 egg
1/2 cup butter, softened
1/4 cup sugar
1 tsp almond extract
2 1/2 cups flour
1 tsp baking soda
1/2 tsp salt
1/2 cup maraschino cherries (chopped)
1 egg white
1 tbls water
2 cups finely chopped walnuts
48 chocolate kisses
Preheat oven to 375 degrees. Cream shortening, butter and sugars until fluffy. Blend in egg and almond extract. Combine dry ingredients and gradually add to the creamed mixture. Stir in chopped cherries. Roll dough into 1″ balls. Combine egg white and water. Roll dough in egg mixture and then in chopped nuts. Place on greased cookie sheets. Bake 10-12. Remove and place chocolate kiss in center of each cookie ball. Bake for one minute more. Remove and cool on wire racks. Let cookies cool until chocolate kiss is set (about 3 hours…not that they'll last that long!)
Lemon Bars
2 cups flour
1/2 cup powdered sugar
1 cup butter
4 eggs
2 cups sugar
1/3 cup fresh lemon juice
2 tbls powdered sugar
Preheat oven to 350 degrees. Mix flour and 1/2 cup powdered sugar in a bowl. Cut in butter using pastry blender. Pat mixture gently into 9″x13″ baking dish. Bake 15 minutes or until crust is lightly golden brown. Beat eggs, sugar and lemon juice in bowl until smooth. Pour over crust. Bake 20 minutes or until set. Cool on wire rack. Sprinkle with 2 tbls powdered sugar and cut into bars. Keep chilled, unless you're eatin' 'em!

Buckeyes

1/2 cup creamy (or chunky if you're a chunky fan) peanut butter
1/2 cup margarine or butter, softened
2 cups confectioners (powdered) sugar
1 package (12 oz) semisweet chocolate chips
2 tsp corn oil
In medium bowl combine peanut and regular butter until creamy. Add confectioner's sugar and stir until blended then knead until smooth. Shape into 3/4″ balls (you should be able to get 54 out of this recipe) and place on waxed paper on trays. In 1 quart sauce pan gently melt chocolate chips with corn oil until smooth. Using 2 forks (I found a fondue fork or wooden skewer works just as well) dip balls into chocolate until 3/4 covered leaving a small spot of peanut butter showing (so it looks like a buckeye). Return to trays and refrigerate. Keep in sealed container in the fridge.
Note: For remaining chocolate, dip strawberries or stir in marshmallows, nuts, et cetera and drop by spoonfuls onto waxed paper for extra sweets!