Sunday Art
November 26, 2006 by Anna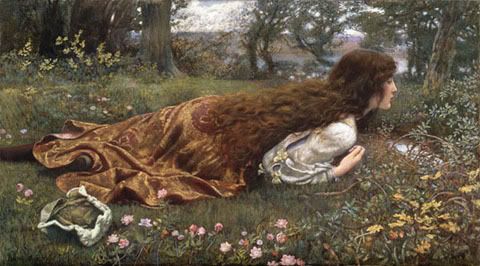 Edward Robert Hughes -"The Princess Out of School"
14 Responses
on November 26, 2006 at 5:08 pm |

Mary*Ann

Beautiful Anna…you find the best art….because *that's* what you do

Yes, we do what we do, M*A! There on my sidebar is the link to the "gallery" that I use the most…Illusions Gallery. Gorgeous stuff!

very nice…

i still cannot move too quickly since Thanksgiving ANNA…

too much stuffing…

best wishes.

, Brooklyn! I hear you…then there's the leftovers!

Is this a caption contest?

My entry:
and as she fell into the pile of manure she thought, OH SH…

hehehe
(okay sorry I'm being a jerk today)

That's okay, Stew…I don't have to live with you! *chuckle* (Poor Jen!)

on November 28, 2006 at 2:34 pm |

Trish Olsen

She's gorgeous! But Stew's comment above — provided the laugh I really needed to start my day, today!

You come by the most beautiful art….

Trish, Stew has a habit of at the very least getting a *snort* from me with his one liners!

Thank you, Andi! The link for the art site I use is up on the sidebar…Illusions Gallery. There's also Art Renewal Center. I love the Pre-Rafaelite period!

Reminds me of the character Diana in 'Anne of Green Gables'.

I hadn't thought of that LB, but you're right, she does!

Very nice, indeed! Now I have another artist to go look up! LOL

Oh, his work is gorgeous, Benning! Look at Arthur Hughes' pieces, too…you'll probably recognize them.