Wonder
November 22, 2006 by Anna
I am thankful for God's wonders.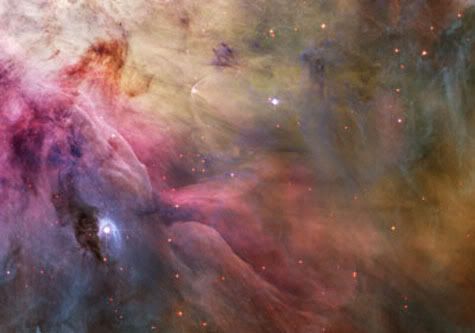 Hubblesite.org Orion Nebula
18 Responses
Okay, I am reeeeeeally sick of this. God keeps getting credit for this stuff when everyone knows that Hillary Clinton is responsible for making this.

What?

huh? Oh that's not?

Okay, jeez. I thought that was a photograph of Bill Clinton exhaling that lungful of pot that he didn't inha…

Just nevermind.

Stew, you're such a goof! And see, I thought it was Rove's weather machine that did all these things!

LOL! Happy Thanksgiving!
BTW – It's Bush – all Bush!

on November 23, 2006 at 11:06 am |

Mary*Ann

Happy Thanksgiving Anna and family.

And thanks for the reminder…the Hubble goes on my things I am thankful for list!

Oh, you're right Yankeemom, it's Bush's fault (but Rove has the power!) LOL

Yes, M*A, the wonders of modern science and medicine are amazing!
Have a beautiful Thanksgiving…don't eat too much!

God's incredible creation is definately one of the things I am thankful for. This is the wallpaper on my computer.

Happy Thanksgiving, Anna! May we remember the things for which we are grateful, large and small.

Thank you jgf! May you have a beautiful and blessed day!

The color scheme reminds me of Michaelangelo's Sistine Chapel ceiling.

It is gorgeous, isn't it? Have a wonderful Thanksgiving Mike!

Happy holidays Anna!…gotta get back to my cooking!..lol

Same to you Angel! May your meal be DELICIOUS!

Happy Thanksgiving. Wonderful picture…

Same to you, Andi! Hubblesite is great…lots of beautiful pictures!

on November 24, 2006 at 1:57 am |

Trish Olsen

This photo is amazing! Did you happen to "see" the cherub-like face? The face's right eye (complete with lashes) is in the middle of the photo, about 1/5 of the way down. There is also a perfectly-placed left eye — & a nose, a tiny mouth & chubby cheeks. Very odd. Very beautiful…

No, I hadn't seen it, Trish, but once you said that, I could! I just loved the swirled colors!