Happy Birthday Marine Corps!
November 10, 2006 by Anna
 "From the halls of Montezuma, to the shores of Tripoli…"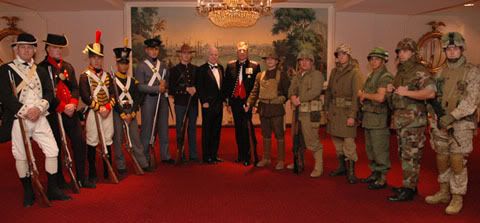 Marine Corps Commandant's Photo Gallery – Birthday Ball
7 Responses
on November 10, 2006 at 3:29 pm |

Kyle

What a fantastic picture. 231 years of the best of the best!

Kyle, I thought it was great that they had all those soldiers dressing in the period uniforms of the Marines. What a great history of honor and brotherhood!

on November 12, 2006 at 3:45 am |

Trish Olsen

Looks like the Marines have always made a fashion statement. A great photo — only I wish I could see those outfits a little more up close.
I sent my Marine "Soldier" a Happy Birthday Card this week — Happy 231st! Seriously.

Trish, If you click on the link, it'll take you to the site where there are a lot of pictures on the "Commandant's Gallery." I believe they have each one up close, i just liked the "line up!"

The Marines, like a lot of elite military organizations, not only want to be the best on the battlefield, but they want to be the best on the parade grounds as well. Beating up the enemy isn't enough, it seems.

I'm sure Anna would also like to see them "up close" and personal.

Are you picking on me, Ymarsakar!