"They may see the good you do as self serving,
Continue to do good.
They may see your generosity as grandstanding,
Continue to be generous.
They may see your warm and caring nature as a weakness,
Continue to be warm and caring.
For you see, in the end, it is between you and God.
It never was between you and them anyway."
(I found this quote on a plaque. It was not signed, but I really liked it and thought that it was appropriate for the following story.)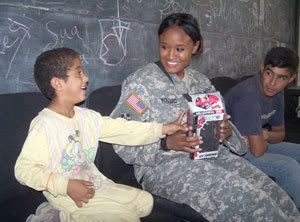 CAMP LIBERTY — In the midst of moving barriers and taking part in other logistics missions throughout Baghdad, Soldiers from one support brigade are working on leaving a personal impression on Iraqi citizens.

The Soldiers from 589th Brigade Support Battalion, Fires Brigade, 4th Infantry Division, have collected and delivered clothes, toys and other items to the clinic at the Civil Military Operations Center in the Radwaniya Palace Complex for nearly six months.

The effort started when Staff Sgt. Valrica Pollard (above), re-enlistment and medical logistics noncommissioned officer-in-charge, 589th Brigade Support Battalion, met Soldiers with the 414th Civil Affairs Battalion, out of Utica, N.Y., who were living and working near 589th BSB Soldiers.

Pollard had received a box of toys and said she and her colleagues were interested in adopting a school or getting involved in the community in some other way.

The 414th CA Bn. Soldiers took Pollard, a native of Akron, Ohio, to the clinic, where a local Iraqi doctor teamed with U.S. military doctors to treat local nationals. After the Iraqis were treated, they were presented supplies from the donations.

After her first visit, Pollard said she sprang to action, writing to family and friends for more supplies. She talks about the CMOC everywhere she goes, especially when she runs into Soldiers from her former units.

"Even when she was on Environmental Morale Leave, she was meeting with people and churches to get supplies sent over," said Command Sgt. Maj. Eric Taylor, 589th BSB, a native of Lexington, Ky., who has visited the clinic several times with Pollard.

Pollard also encouraged her fellow Soldiers to solicit supplies and accompany her on trips to the clinic.

"She just kept asking me," said Capt. Annette Whittenberger, commander, Headquarters and Headquarters Company, 589th BSB.

Whittenberger, a native of Simi Valley, Calif., said her mother sent a big box of toys. She has twice visited the clinic with Pollard.

"It was pretty exciting," said Whittenberger. "I got to see the kids and their parents and how the whole thing operates."

Pollard said she visits the clinic whenever she gets a chance, usually about every other weekend. After turning in the boxes of goodies, she likes to play with the Iraqi children, who get excited about new toys and the animated movies playing in the waiting area.

"Regardless of what your purpose is, you have a good feeling that you did your part," said Pollard.