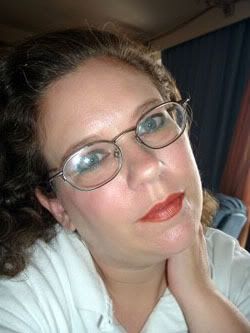 This is Ellicia. She is in a battle. It is the battle against cancer and unfortunately the cancer is winning. It has gone from breast to lung to brain. Ellicia, her husband, blogger SC Eagle of A Storm in Afghanistan and their children are desparately trying to enjoy what time remains to their family. They are currently in Germany where SC Eagle serves our country on active duty, but they are working on coming home to the States where SC will be on compassionate leave. Also, where they are hoping to have full-time hospice care so that she can be with her family for as long as absolutely possible.
My heart breaks for this family. SC Eagle has put his life on the line for this country and yet he continues to fight, this time for his love and his own family. Here is a little of what their days are like:
Day to day life? Well, she has good days and bad days. She no longer carries anything breakable or sharp as we never know when something will give out. Driving is a long-ago memory now. And, of course, I don't leave her alone with our toddler. For her to get in/out of bed, we like to have me there… just in case.

She can move around alright. Slowly, but deliberately.

She still has her "Brain Freeze" moments. Brain Freeze has now been diagnosed by one of our doctors. Apparently, it's actually mini-seizures in the brain. What happens is that about twice a day, for approximately an hour at a time, she comes to a stop. She really can't concentrate on anything, or think through anything. For example, let's say she's playing solitaire. When the freeze comes, she can no longer figure out where the next card goes. Luckily, we seem to be able to tell when the freeze is coming, so… she'll just take a seat and wait for it to end. Or, if we're driving, then it's pretty easy…

Yes, she's still coherent and can answer basic questions ("Are you ok?", "Brain Freeze?", etc), but…

Her leg is no where near where it used to be, but it could be a lot worse.

Toes are wiggling… maybe that's a good sign.

So, what's with the picture? Well, fortuitously, we had professional pictures done while we were on leave. Here is hers.

She looks a bit different now. The hair is gone. So, of course, is one of the breasts.

Guess what? She's still beautiful. Her infectious smile and twinkle in the eye, that is still there. And she makes me laugh. And I love her.
Andrea Shea-King and Mark Vance of Constitutional Public Radio and their blog, The Radio Patriots have a fundraiser that will be starting very soon. It is to help with medical, loss of some income and hospice expenses that SC Eagle's family is having to deal with. Please visit The Radio Patriots website for further news and updates!