Here's the latest news on these fires.
The entire Pasayten Wilderness has been closed due to the Tripod and Tatoosh Wildfires

The Tripod Fire is aggressively burning the eastern portion of the Wilderness in the Horseshoe Basin, and reached the Chewuch and Tungsten Rivers on September 4th. The Tatoosh Fire is burning the western portion of the Wilderness, in the Pasayten River and Lost River drainages. Extreme fire behavior is pushing the fire towards the Pacific Crest Trail, and farther into Canada.

The Methow Valley Ranger District is looking closely at fire locations, anticipated weather, and natural fire barriers to see if some portions of the Wilderness can be opened for High Hunt.

Please contact the district office at (509) 996-4003 for the latest information.
The Tripod Complex Fire is over 161,000 acres although they are saying it is 56% contained. They are also saying there is a 50/50 chance of having containment by their target date of October 1.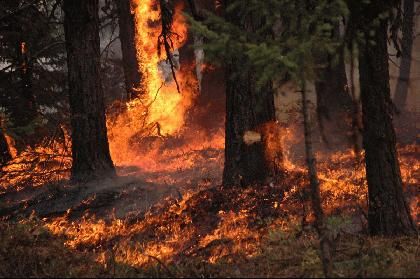 Dad is not working this fire anymore. He is down in Walla Walla working the Columbia Complex fire (pictured above) which is about 92,000 acres. It is 35% contained, but because it is more grasslands then forest, it has spread much faster then the Tripod Complex Fire. Here is more on the Columbia Complex fire:
Firefighters are continuing to mop up and patrol fire lines on the western edge of the fire. Burnout operations will continue today as needed, and structure protection remains in place. Crews are working hard to construct fireline despite heavy fuel loads and steep terrain. Fire crews helped with initial attack on 15 lightning strikes that occurred the Umatilla National Forest, with the largest being 100 acres.

This fire remains the highest priority for resources in the Northwest Region. Yesterday was an active fire day and similar conditions are expected today. Falling snags are adding to hazardous conditions on the fireline. No current estimated date of containment. The surrounding communities including Waitsburg, Dayton, and Pomeroy are open for business.
This has been a really bad year for lightning strike fires in Washington. Last summer Dad was off pretty much the entire summer. It seems to be either all or nothing. All I know is I'm praying that they get these fires under control and out so that the firefighters can go home and get some much needed rest!