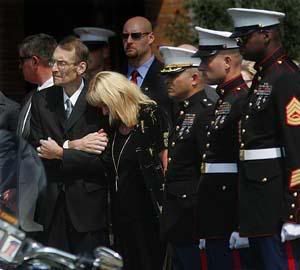 Corporal Joe Tomci was buried on Monday with full honors while a city turned out to pay their respects. Men, women and children lined the street in Stow, Ohio as this hometown Marine's funeral procession passed. That so many would attend shows how well he was liked. That so many would mourn shows how great the loss. A loss of a soldier in battle is a terrible thing, but Joe believed in what he was doing and what he stood for. From all that I have read and heard, there was no doubt in him about whether or not he was doing the right thing.
Piatt told of the first time Tomci came to the school to meet her students.

"The children stopped and stared at him with such awe and admiration," she said. "Their eyes followed him as he walked to the front of the room."

Tomci, Piatt said, talked about what it means to be an American and to be a Marine.

He spoke to them about "respect and loyalty and faith and trust," she said.

Piatt said she believes that because of the connection made over two years of correspondence between Tomci and the students, Tomci's spirit will live on in her students.

"They will grow up to be better adults than they ever would have been if they hadn't known Tomci," she said.

"You, Joe Tomci, will be making the world a better place for many more lifetimes because of what you instilled in these children."
One of the Marine's best friends, Mike Gross, 21, a University of Akron student, delivered the eulogy and said he produced a video of all his friends at the end of their senior year in high school.

In that tape, Tomci was interviewed and Gross read the words of his friend.

"I can't imagine leaving this world," Gross said, quoting Tomci.

"I am lying on my deathbed just thinking about all the kick-ass times we had, man. I don't even care how much pain I'll be in before I die. I'll think family and friends. It will be sweet, cause I'll just smile. I know nothing can hurt me. I'll be home."
Photos and quotes from The Akron Beacon Journal
Trackback to ARGGHHH!