I'm altering the date on this post to keep it at the top through the weekend. Please scroll down for new posts.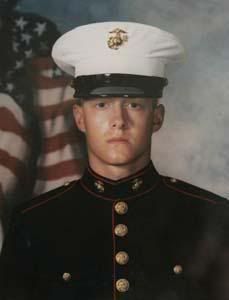 Joe Tomci came home today (Thursday 08/10). In my other posts, I have had comments from his friends and family that have truly touched my heart. I can only say that I wish I had known him. He was a son any parent would be proud of and a friend to all who met him, a 2003 graduate of Stow-Munroe Falls High School, a football player, a leader and an inspiration.
Lynette, a friend of Joe's brother Jason, told me this:
"…Joe was never 'little,' he's always been larger than life…so incredibly full of life. And as he grew to be a young man, his strength of character and commitment to honor made him stand even taller in my eyes. He truly is all that has been written about him in the local press and online blogs."
There will be calling hours at Redmon Funeral Home in Stow, Ohio from 1 pm to 9 pm, Sunday, August 13 and the funeral service will be Monday, August 14 at Holy Family Catholic Church in Stow, Ohio at 10:30 am. He will be laid to rest at the Ohio Western Reserve National Cemetery in Rittman, Ohio.
"Greater love hath no man than this, that a man lay down his life for his friends."
John 15:13
Other posts about Joe: Joe Tomci and In Memorium