The forecast for Southern California reminded me that sometimes you really can't prevent forest fires!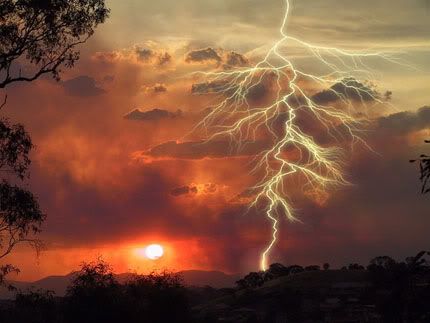 This photograph was taken by a Montana firefighter while they were battling blazes started by lightning strikes. With thunderstorms forecasted for California, already dealing with fires, the prospect of lightning can be even more frightening.
This one I just had to add! Dave of ThirdWaveDave sent it to me earlier and I believe it may be from the same fires that the lightning bolt picture came from. I don't know the photographer of the lightning picture, but here is the history of this photo:
This image was captured late in the afternoon of Sunday August 6th, 2000 from a bridge over the East Fork of the Bitterroot River just north of Sula, Montana by a fire behavior analyst by the name of John McColgan.

These elk sought refuge in the river bottom during what may have been the most extreme day of fire behavior on the Bitterroot in more than 70 years. The image was taken on a digital camera and as such there are no photographic negatives. The image may be freely downloaded at this address: http://fire.ak.blm.gov/

Since John was working while he took the picture, he cannot sell or profit from it, so he should at least be recognized as the photographer of this once-in-a-lifetime shot.
Thank you so much Dave!!